Meet the inventor of wifi in a conversation with the President of the Technion – SYDNEY
February 4 2020 @ 6:30 pm

-

9:00 pm

Free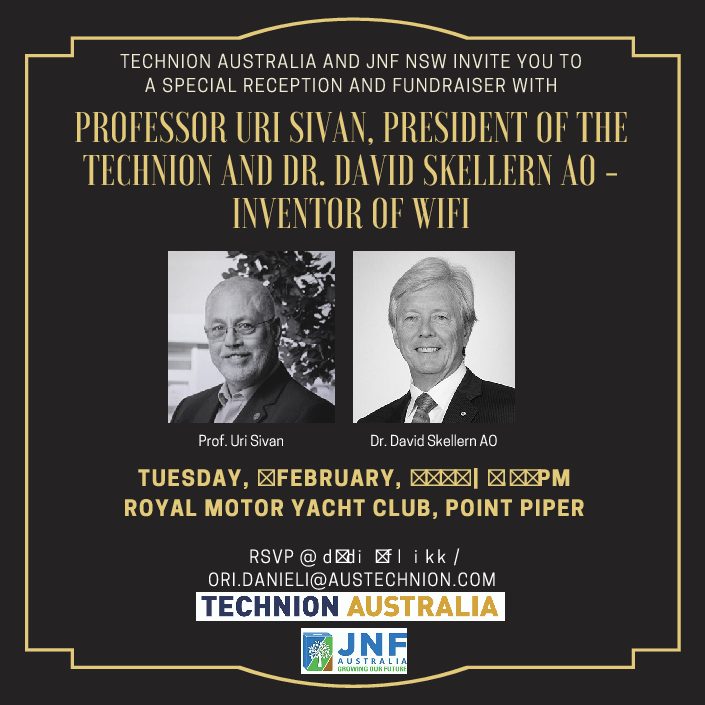 Join JNF Australia and Technion Australia for a conversation between 2 of the world's greatest influencers in the area of innovation and entrepreneurship – Prof. Uri Sivan, President of the Technion and Prof. David Skellern, inventor of wifi.
The two distinguished leaders will share their visions on what Israel and Australia need to do to ensure they maintain and expand their leadership in the entrepreneurial  ecosystem. They will also expand on the impact emerging technologies such as artificial intelligence, virtual reality, robotics, quantum computing, cyber technology and automation present to the world's defence, medicine, health, environment, education, communications and other technology industries.
This will be Prof. Sivan's first Australian public address as President, he will also speak about Technion's exceptional entrepreneurial ecosystem and leadership in this space as well as its continued vision of nurturing Israel's future business leaders and entrepreneurs and developing applications that can impact both Israel and the world at large.
Prof. Sivan is a former IDF combat fighter commenced the position in October 2019 and is considered among Israel's highest authority in physics, particularly in nanotechnology and quantum related disciplines.
Among many of his claims to fame, are the design and build of a unique, ultra-high-resolution atomic force microscope, as well as the creation of the nano-bible – the world's smallest bible (smaller than a pinhead) which the late President Shimon Peres presented to Pope Benedict XVI during a visit to Israel.
Being the President of Israel's most prestigious university positions him among the nations most distinguished public figures. Click here to view a special welcome message from him which was recently released + click here for his full bio.
Prof. Skellern worked in radioastronomy for 10 years and taught electronics at Sydney and Macquarie Universities for 16 years before coming to prominence in the IT industry through Radiata, which he co-founded in 1997. Built on joint research conducted by Macquarie University and the CSIRO, the company demonstrated the world's first chip-set implementation of the High-Speed WLAN standard. This innovation has been described as a revolution in world communications, introducing high speed wireless communications
Radiata was subsequently sold to US giant Cisco Systems in 2001 for $565 million. Dr Skellern joined the Board of National ICT Australia in 2003 and became its Chief Executive Officer in 2005 and is currently Chairman of CMCRC. Dr Skellern was appointed to the Order of Australia in 2010.
The reception will also be an opportunity for Prof. Sivan to formally acknowledge and honour a major philanthropic donation recently received by a Sydney donor to strengthen the Technion's commitment to leadership in the quantum research discipline.
Attendance is at no cost but your contribution to support the Technion Sustainability initiative and JNF Green Week would be anticipated.
Register today – this event is guaranteed to sell out and based on a first in first serve basis.
To find out more, contact ori.danieli@austechnion.com / +61 405 328 577