JNF Green Sunday & Technion Australia Event – MELBOURNE
February 6 @ 6:30 pm

-

9:00 pm

Free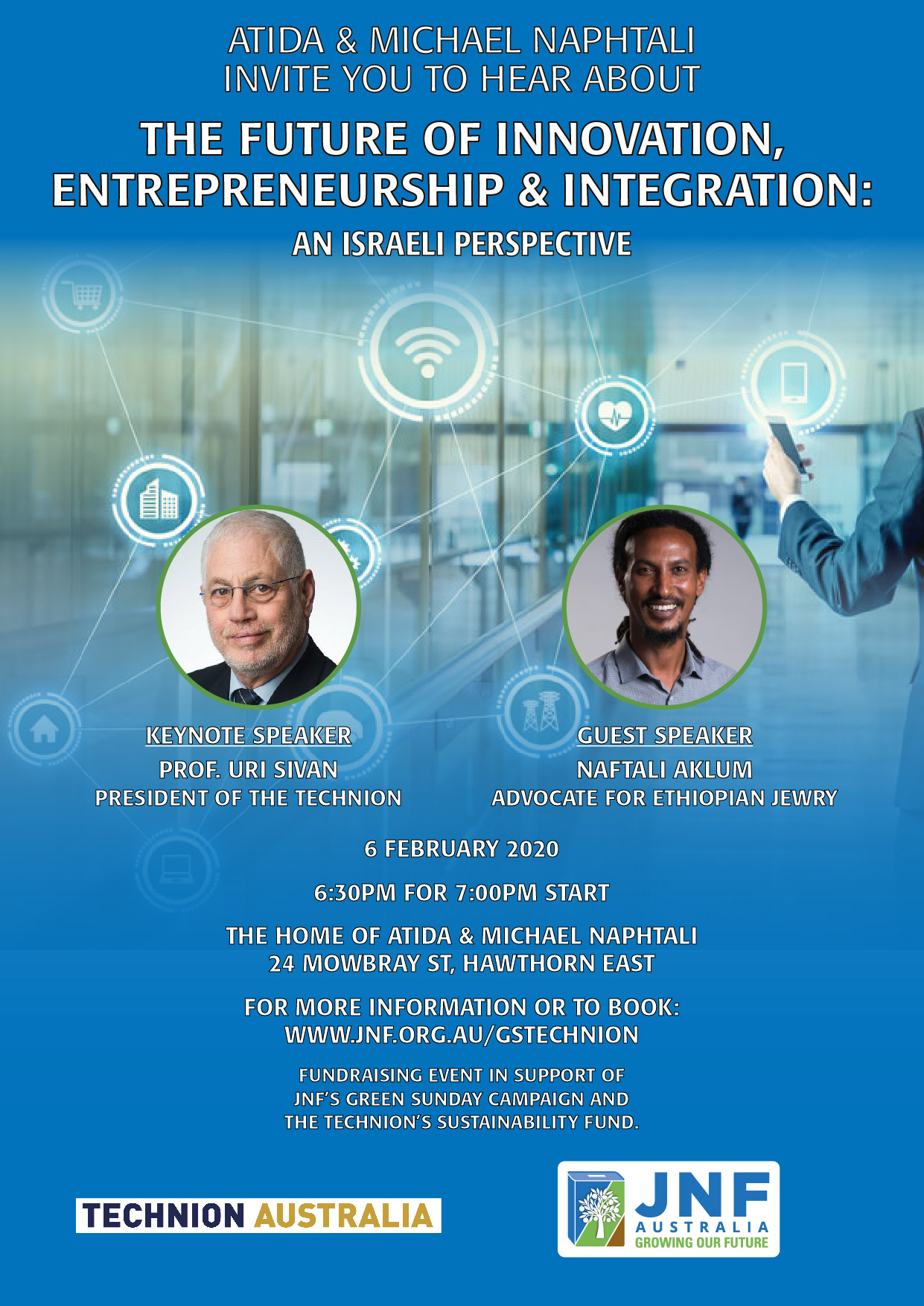 Join JNF Australia and Technion Australia for a fascinating insight into the future of innovation, entrepreneurship and integration.
Prof. Uri Sivan, President of the Technion, will share his vision of what Israel and Australia need to do to ensure they maintain and expand their leadership in the entrepreneurial ecosystem. He will discuss the impact of emerging technologies such as artificial intelligence, virtual reality, robotics, quantum computing and cyber technology as well as medicine, health, environment and education.
In his first public address to the Melbourne community, Prof. Sivan will also speak about Technion's exceptional entrepreneurial ecosystem and leadership in this space as well as its continued vision of nurturing Israel's future business leaders and entrepreneurs. Prof. Sivan commenced his Presidency of the Technion in October 2019. He is considered one of Israel's highest authority figures in physics, particularly in nanotechnology and quantum related disciplines. Among many of his claims to fame is his design of a unique, ultra-high-resolution atomic force microscope, as well as the creation of the nano-bible – the world's smallest bible (smaller than a pinhead) which the late President Shimon Peres presented to Pope Benedict XVI during a visit to Israel.
Naftali Aklum is an advocate for Ethiopian Jewry. Born in Ethiopia in 1979, Naftali was among the first group of Jews to make Aliyah via Sudan when his mother carried him on her back from Ethiopia to Sudan. Today, he works as an advocate for Ethiopian-Israelis, striving to raise awareness about Jewish-Ethiopian history and to strengthen Ethiopian-Israeli identity. He strongly believes that through education and self-confidence the Ethiopian community throughout Israel will flourish. Naftali will discuss Ethiopian Jewish history, culture, and the unique challenges faced by the Ethiopian Jewish community living in Israel.
Naftali will also discuss the Netflix movie The Red Sea Diving Resort, which is based on the true story of his brother, Ferede (z''l), who championed Ethiopian migration to Jerusalem.