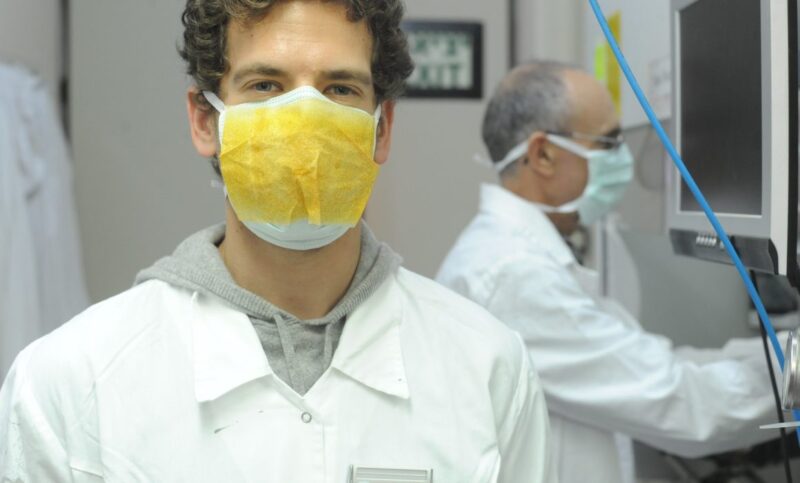 In late March, the Technion came out with one of the first personal protective equipment (PPE) developments for medical teams treating the coronavirus on the frontlines — the "Maya" sticker. Now, the adhesive decal, which boosts the efficiency of surgical masks by 100%, has gone into mass production at the Dykam paper plant in Kibbutz Ein Harod. As of mid-August, Dykam was turning out 5,000 stickers per day and had plans to increase production to one million per month.
Invented by Technion Professor Eyal Zussman, who holds the Yeshayahu Winograd Chair in Fluid Mechanics and Heat Transfer in the Faculty of Mechanical Engineering, under the clinical guidance of Professor Samer Srouji at the Galilee Medical Center, the sticker adheres to the outside of standard surgical masks. While those masks provide a first line of defense, their pores are comparatively large, allowing droplets carrying the highly contagious coronavirus to get through. Maya, named after Prof. Zussman's daughter, is composed of nanofibers whose tiny pores filter out and prevent penetration by the .13 micron-sized virus. The sticker is also coated with biocides that kill the trapped viruses within a few seconds.
In addition to Maya's safety benefits, its production is expected to provide jobs to the Dykam employees who had been furloughed due to the pandemic. Nearly a quarter of its workers were let go when the factory, which produced train, plane, and movie theater tickets, among other things, suffered a 50% drop in sales.
Dykam has already started marketing the Maya sticker to dentists in Israel, and has received orders from Canada, Japan, Italy, and Spain. It is not yet available for retail sale. The product has been approved by the Israeli authorities and is expected to receive approval shortly in the U.S. and Europe.
Filed under: COVID-19, News, Technion Israel