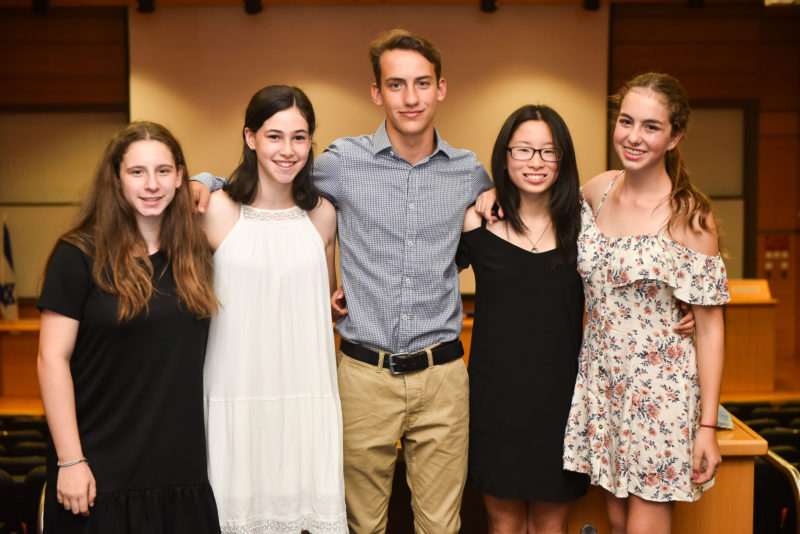 Five students from Sydney have returned home after an exciting month in Israel at the 2017 Technion SciTech International Summer Science School.
Australia "punched above its weight" this year with a record-breaking number of students selected to join only 60 at Technion from over 20 countries around the world. The Year 10 students – Leila Freedman, Matthew Blau, Hannah Whitmont and Jamie Levine from Moriah College and Olivia Chen from Masada College spent the month working with Technion academics and graduates in the Technion's state-of-the art laboratories. During their time at Technion, the students were tasked with challenging, specialised research projects incorporating everything from touch-screen functionality and virtual reality to cancer research and biomedical engineering.
Technion Australia offers a prestigious scholarship to encourage the young would-be scientists. This year's scholarship was awarded to Moriah College's Hannah Whitmont, who was full of enthusiasm for her experience. "It was such a friendly, inclusive environment," says Hannah. "Everyone was so different, yet we bonded over a shared love of science."
The cutting edge technology, world class laboratory facilities and expert mentorship offered at Technion was an unparalleled privilege for these budding young scientists. But there was so much more to their SciTech experience. The students had the opportunity to travel and explore Israel, make lifelong friends and learn about each others' richly diverse cultural backgrounds. "It was such an amazing, inspirational experience," says Matthew. "It was so incredible to be around such experts in their fields, technology and creative thinking." Olivia adds "I met incredible people and had unforgettable adventures. It was truly the chance of a lifetime".
On 8 September 2017 the SciTech students from Moriah College gave a talk about their time at Technion and their research projects at their High School assembly before their parents and fellow students. Technion Australia Executive Director, Hilary May Black, was honoured with a presentation from the students and College to express their appreciation to Technion and Technion Australia.
Technion Australia President, Dr Ruth Ratner, says "We are delighted to support SciTech at the Technion and are very proud of the achievements of the students who have attended over the years. Once again, the students have had an amazing time in the inspiring Technion environment. We're looking forward to promoting the programme here in Australia even more widely in 2018".
Schools will be contacted about applications for SciTech 2018 in late 2017. For more information contact Hilary May Black, Executive Director, on info@austechnion.com.
Filed under: News, SciTech