How to turn an idea into a Billion Dollar business
August 8 @ 7:00 pm

-

9:00 pm

Free
Technion Australia in partnership with the AICC invites you to a conversation with Ayal Steiner, Vice President, Global Ad Revenue at Outbrain– Israel's fastest growing tech company.
YOUNG LEADERSHIP AND ALUMNI – A TECHNOVATION SERIES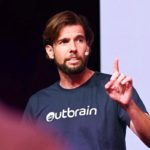 If you meet at least 3 of the following points then this event is for you!
Passionate about innovation, entrepreneurship and startups
Young (or young at heart), future leader – ~35 years of age or under
Technion alumni
Appreciate Israel's entrepreneurial culture
Enjoy meeting new people
Ready to be inspired
We've heard it all before, 2 guys and a dog taking an idea and turning it into a Billion-dollar business, but how is it that Israel despite its challenges manages to produce more successful start-ups than anywhere else? How is it that one university in Israel – the Technion, produces more than 70% of Israel's startup founders and CEO's? is it something in the water? Or perhaps a nation's drive to prove itself and make an impact on the world?
Ayal will share the story of Outbrain– how it grew from an idea to the world's leading content discovery platform, valued at over a $1B US and his journey of launching the Outbrain business across 11 markets in APAC.
You probably never heard about Outbrain before, but I can assure you that you interact with its technology on daily basis. Outbrain is a discovery platform that helps us all discover things we never knew existed in the open web. Outbrain's technology is used by new sites, apps and embedded into mobile phones and drives a personalised feed of interesting things to discover from around the web such as. Articles, videos, podcasts etc.
At the core Outbrain, like Google or Facebook, use complex algorithms and machine learning technology to predict users interest and delight them with interesting things to discover.
When:              Thursday, 8 August 2019, 7.00pm for 7.30pm – 9.00pm
Where:               Bellevue Hill (exact location to be provided upon registration)
RSVP:                Click here
Dress code:          casual
This event is generously hosted by Robert and Sue Sonnenschein and their son, Mark at their home.
We look forward to welcoming you on the day.
Ori Danieli,
Executive Director
Technion Australia