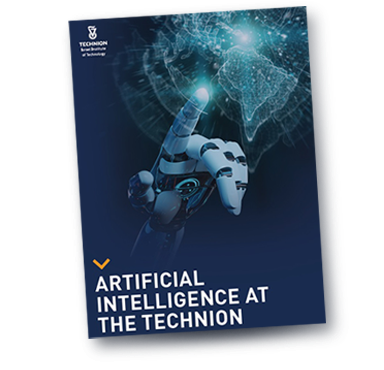 Technion Researchers Harness the Power of Artificial Intelligence to Tackle the World's Most Pressing Challenges
Technion researchers are harnessing the power of artificial intelligence (AI) to tackle the world's most-pressing challenges. Their extensive work in the field has positioned the Technion among the world's leaders in AI research and development. CSRankings, the leading metrics-based ranking of top computer science institutions around the world, has ranked the Technion No. 1 in the field of artificial intelligence in Europe, and 15th worldwide.
In the subfield of machine learning, the Technion is ranked 11th worldwide. Over the years, the Technion has carried out outstanding research in the field of AI – much of which has developed into trailblazing commercial products. Collaborations with manufacturers, the high-tech industry, government agencies, R&D centers, healthcare providers and academic institutions, have all contributed to the Technion's excellence in the field, and many alumni and researchers have gone on to found companies across the AI spectrum.
During the coronavirus pandemic, Technion researchers and alumni have used a host of AI technologies, from detection to diagnostics, including testing for pre-symptomatic COVID-19 carriers; predicting the spread of COVID-19 around the globe; and analyzing the data of thousands of patients to show the effectiveness of the COVID-19 vaccine.
To learn about the Technion's trailblazing AI research and technologies, click to read our Fall 2021 AI Brochure.
Filed under: News