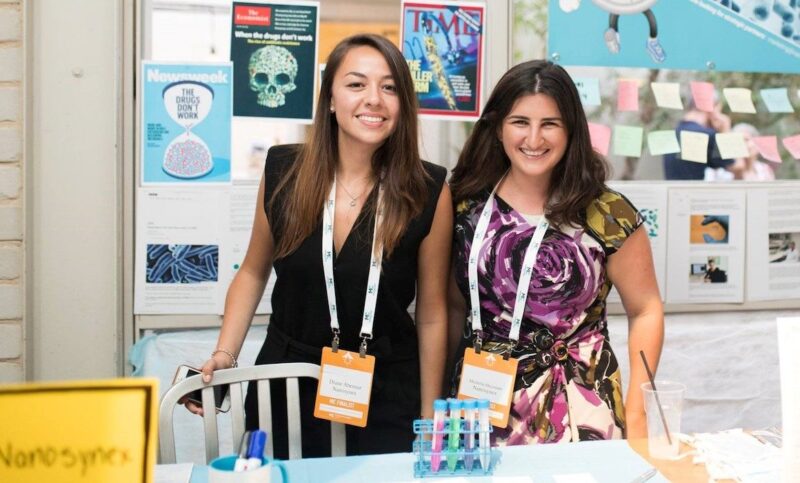 Nanosynex, an innovative medtech startup that traces its beginnings to Technion Professor Shulamit Levenberg's lab, is now on the frontlines in Israel tackling the COVID-19 pandemic. The three year old-company, co-founded by alumnae Michelle Heymann MBA '16 and Diane Abensur Bessin MBA '16, is partnering with Israeli emergency medical services organization United Hatzalah to roll out COVID-19 rapid diagnostic kits. The launch is part of a pilot initiative to ramp up mass testing efforts.
Even though Israel is the most vaccinated country on Earth, having doled out coronavirus vaccines to more than half its population (as of early February), COVID-19 cases and deaths are up.
"We are in the middle of the worst spike that we have seen from this pandemic," Nanosynex CEO Abensur Bessin recently told media blogs in Israel. "Our economy has been closed for almost a year and infection is not slowing down despite a three-week lockdown." She and Heymann are betting that widespread testing with an inexpensive, easy to use kit, provided by Nanosynex and French company Biosynex, can help curb the spread of the virus. Biosynex was Nanosynex's first investor and strategic partner.
The kit consists of an antibody detection test, or serological test, conducted on blood extracted from a finger prick, and an antigen detection test taken with a nasal swab. The antibody test determines the presence of COVID-19 antibodies, while the antigen test detects fragments of SARS-CoV-2, the virus that causes COVID-19. Both tests have been proven effective with sensitivity and specificity in excess of 90 percent, and obtain results in 15 minutes. The kit is approved in Europe and pending approval by Israel's drug and medical regulators.
Nanosynex's main business aims to combat the spread of "superbugs" brought on by overusing and incorrectly prescribing antibiotics. The company is developing an Antimicrobial Susceptibility Test (AST) based on research conducted by Prof. Levenberg, dean of the Technion Faculty of Biomedical Engineering, the Stanley and Sylvia Shirvan Chair in Cancer and Life Sciences, and now Nanosynex's chief scientific officer. The test allows physicians to distinguish between bacterial and viral infections and determine the best antibiotic for each patient, with same-day results.
Nanosynex was launched with a boost from the Technion Technology Transfer Office, T3, in 2017 when then Technion MBA students Abensur Bessin and Heymann made a case study of Prof. Levenberg's research on antimicrobial resistance. "Passionate about life sciences, we were looking for an opportunity in this field. We were determined to create a startup that will respond to a huge need and make the world a healthier place, all within a reasonable time so we could see it through commercialization," said Heymann, Nanosynex's VP of marketing and Operations.
Heymann was born in Brazil and attended the Yale School of Management before receiving her Technion MBA in entrepreneurship, innovation management, and commercialization of new technologies. She worked as a daily arts writer and freelancer for the Folha de S. Paulo and then co-founding Nanosynex. Abensur Bessin, originally from France, studied at both the EDHEC Business School in France and Yale University's School of Management before earning her Technion MBA. Prior to co-founding Nanosynex, she worked as a business consultant, and a teaching assistant at the Technion. Both were named in Forbes Israel's "30 Under 30" list for 2020.
Filed under: COVID-19, News, Technion Israel