International Pi Day – "Lighting the way with Microscopy"
March 14 2022 @ 7:00 pm

-

8:00 pm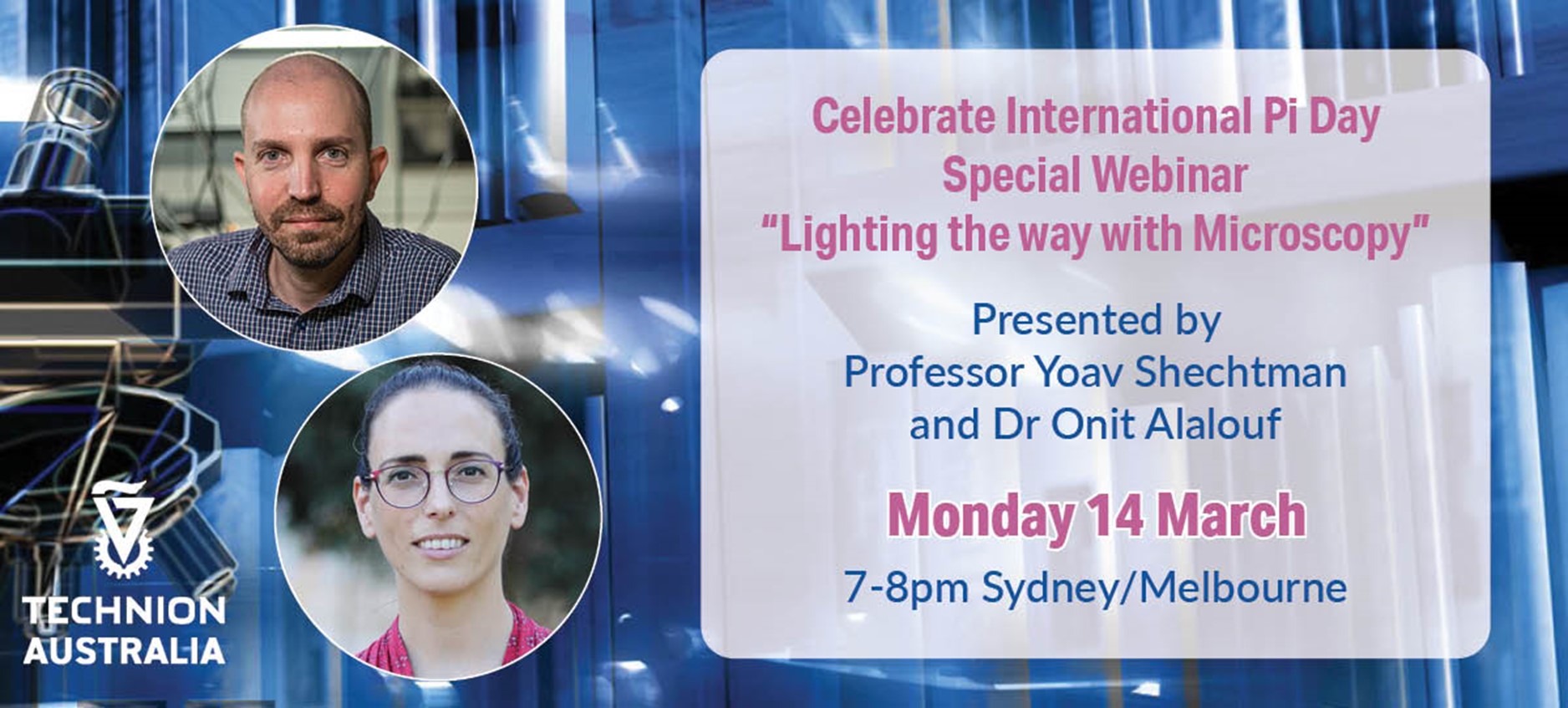 Watch the full recording here: https://youtu.be/sO2fIGSiAE8
Technion Australia is pleased to invite you to
Celebrate International Pi Day
Special Free Webinar
Monday 14 March 7-8pm Sydney/Melbourne
"Lighting the way with Microscopy"
(A Pi special)
Presented by
Professor Yoav Shechtman and Dr Onit Alalouf

From Technion's Nano-Bio-Optics Lab
What is Pi Day and why do we celebrate it?
It is a day to celebrate the mathematical constant pi (π) and to eat lots of pie. Pi Day celebrates the mathematical constant π (3.14). It is celebrated because the digits in the date, March 14 or 3/14, are the first three digits of π (3.14)
Professor Yoav Shechtman is Head of Technion's Nano Bio-Optics Laboratory which has 15 members, researchers and students, at the Technion where he graduated with a BSc and his PhD. He undertook Post-Doctoral research at Stanford University. His research interests include:
Optical super-resolution microscopy – experimental methods and algorithms
Multi-color and three-dimensional nano-tracking
Optical design and analysis through machine learning
Fluorescence microscopy
Dr Onit Alalouf, is the Laboratory Manager and Research Associate in the Department of Biomedical Engineering at the Technion. She obtained her PhD at Technion's Department of Biotechnology & Food Engineering, MSc at University College, London and BSc at the University of Hertfordshire. Dr Alalouf holds a patent in the diagnostics research area and is the recipient of a number of awards for her research.
To register press this button