A view into a mental health brain during Covid-19 times
April 11 2021 @ 7:30 pm

-

8:30 pm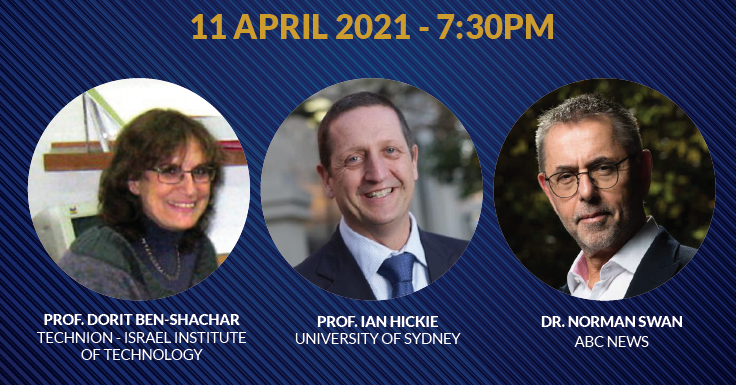 Our speakers:
Prof. Ian Hickie AM, University of Sydney
Prof. Hickie is Co-Director, Health and Policy at The University of Sydney's Brain and Mind Centre. He is an NHMRC Senior Principal Research Fellow (2013-2017 and 2018-22), having previously been one of the inaugural NHMRC Australian Fellows (2008-12). He was an inaugural Commissioner on Australia's National Mental Health Commission (2012-18) overseeing enhanced accountability for mental health reform and suicide prevention. He is an internationally renowned researcher in clinical psychiatry, with particular reference to medical aspects of common mood disorders, depression and bipolar disorder. He is now focused on the development of real-time personalized and measurement-based care systems for use in partnership with young people and their families. These systems promote early intervention, use of new and emerging technologies and suicide prevention. In his role with the National Mental Health Commission, and his independent research, health system and advocacy roles, Prof. Hickie has been at the forefront of the move to have mental health and suicide prevention integrated with other aspects of health care (notably chronic disease and ambulatory care management).
Prof. (Eme) Dorit Ben Shachar, Technion – Israel Institiute of Technology
Prof. Ben-Shachar,PhD is the Head, Laboratory of Psychobiology, Department of Psychiatry, at The Ruth and Bruce Rappaport Faculty of Medicine, Rambam Health Care Campus, Technion – Israel Institute of Technology.Her research interests include, Mitochondrial abnormalities in schizophrenia at the level of RNA and protein modulations, ECT activity, mitochondrial respiration and network dynamics.
Her lab focus in Nano Field: using Nano based technologies as NGS, GWAS as well as Confocal and time lapse microscopy.
Moderator: Dr. Norman Swan, physician and journalist
Producer and presenter of the Health Report, Dr. Swan, is a multi-award winning producer and broadcaster.
Dr Swan's career has been highlighted by his desire to keep the Australian public informed of health developments as they happen. This allows him to combine medical expertise with investigative reporting, clear analysis and the knowledge to report the latest research in health and medicine.
One of the first medically qualified journalists in Australia, Dr Swan is highly regarded by the medical and health professions.
Event partners