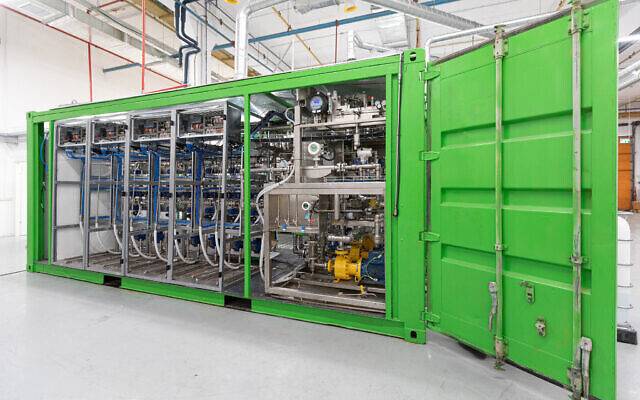 Deal valued at potentially 'hundreds of millions of dollars, if not more,' will see H2Pro producing Technion-developed hydrogen electrolyzers at the 'gigawatt scale'.
By SUE SURKES 8 November 2022, 11:37 pm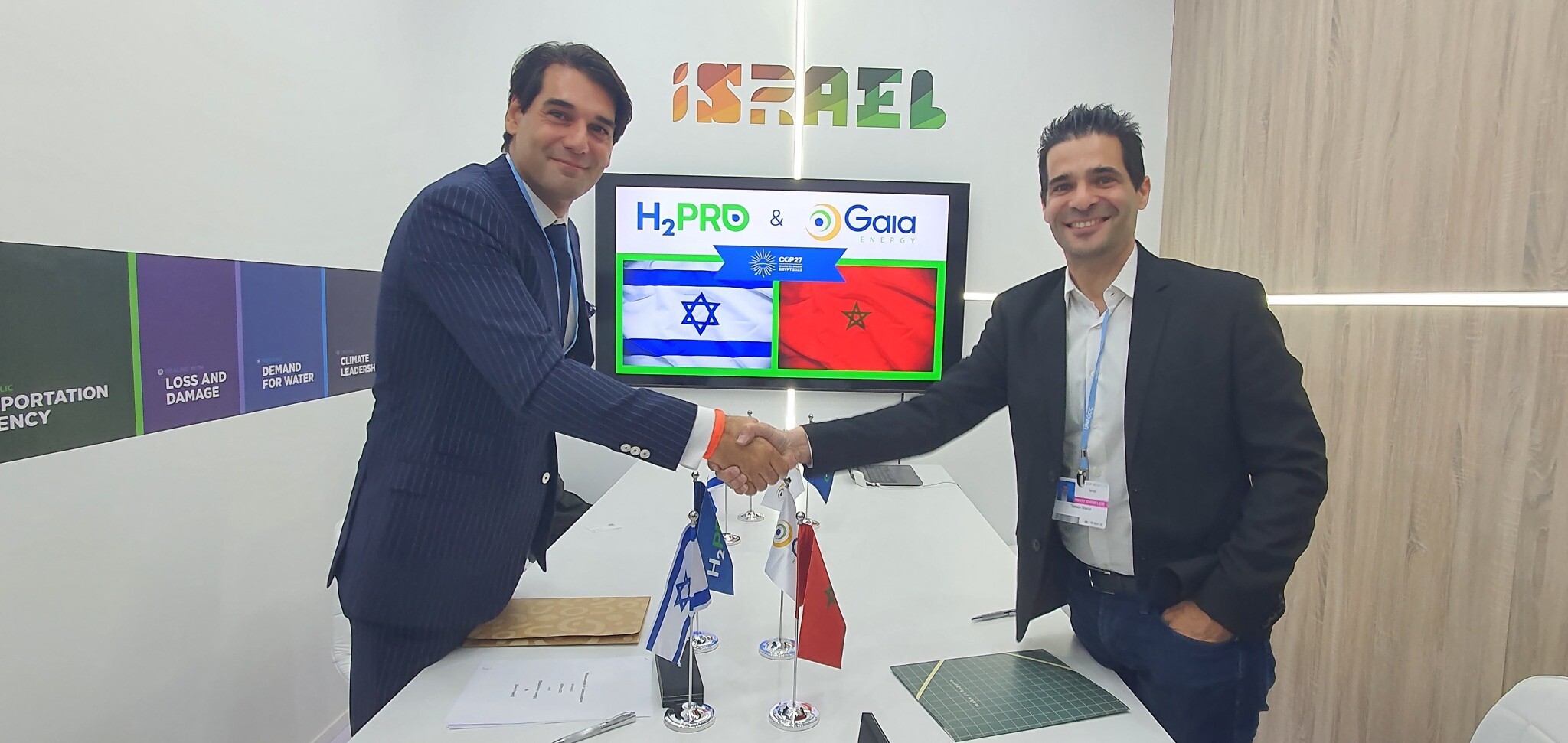 Moundir Zniber of Gaia Energy (left) and Talmon Marco of H2Pro shake hands on an agreement at the Israel Pavilion at the UN COP27 climate conference in Sharm el-Sheikh, Egypt, on November 8, 2022. (Courtesy, H2Pro)
SHARM EL-SHEIKH, Egypt — Israeli hydrogen company H2Pro and Moroccan renewable energy developer Gaia Energy signed a strategic agreement for the supply of green hydrogen on Tuesday during the United Nations' COP27 climate conference in Egypt.
Hydrogen power is harvested by separating and reuniting the elements that make up water through a process that uses electrolysis. Hydrogen is green when the energy used to power the electrolyzers comes from renewable sources.
H2Pro is the commercial arm of an innovation developed by the Grand Technion Energy Program at the Technion – Israel Institute of Technology in Haifa, in northern Israel. The company developed a system called E-TAC (Electrochemical – Thermally Activated Chemical) that separates hydrogen from oxygen in several steps in a technique that uses electricity more efficiently.
Gaia Energy is a leader in renewable energy, working with large utilities, national grid operators and governments to help power Africa with renewable energy. It has six gigawatts of projects under development, and has plans for a further seven projects with a total capacity of 40 gigawatts across the continent.
Gaia Energy's Founder and CEO Moundir Zniber told The Times of Israel that Morocco had large swaths of territory available for giga-scale energy production powered mainly by wind turbines and solar photovoltaic panels.
This could be used to produce enough green hydrogen, at the lowest price in the world, to supply 20 percent of European demand, he said.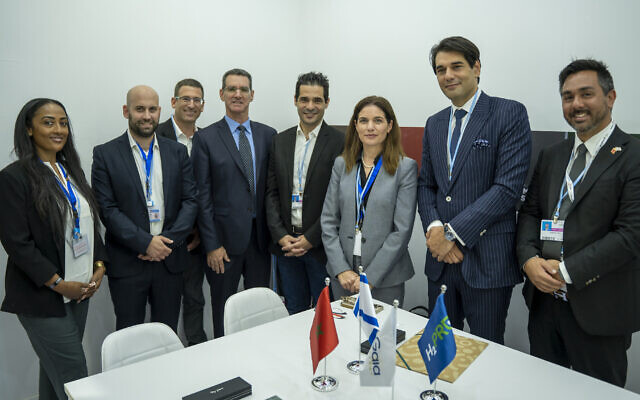 Environmental Protection Minister Tamar Zandberg stands between Talmon Marco of H2Pro (to her left) and Moundir Zniber of Gaia Energy after the signing of an MoU between the two companies at the Israel Pavilion, UN COP27 climate conference, Sharm el-Sheikh, Egypt, November 8, 2022. (Bradley D'coutho)
The new agreement would pave the way to integrate H2Pro's technology and to look at the feasibility of producing H2Pro's electrolyzers in the North African country, he added.
H2Pro CEO Talmon Marco, known for successes with the messaging app Viber and ride-hailing app Juno, said this was by far the biggest commercial deal for the company to date.
The company already has a 200-megawatt partnership with Doral Energy and a factory in the Tziporit industrial zone near Nazareth in northern Israel.
Asked what the deal was worth, Marco said that "at the gigawatt scale, it's hundreds of millions of dollars, if not more."
He went on: "It will take time. We still need to reach maturity with the technology, but this is definitely a step up."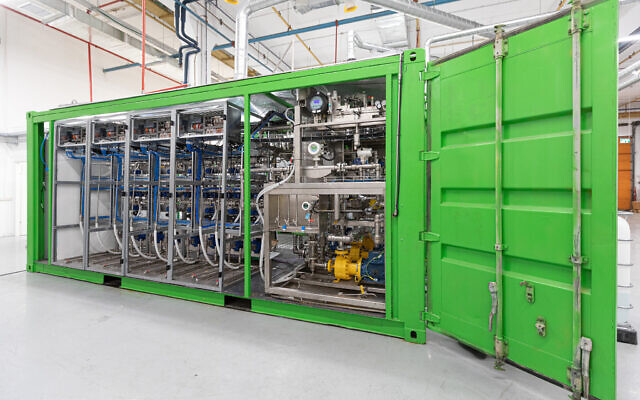 Israeli green energy startup H2Pro developed the E-TAC system, which the company says can produce green hydrogen efficiently and affordably. (H2Pro)
Initial pilot projects would be undertaken outside the lab from the middle of 2023, he said — the first at the Bazan oil refineries complex in Haifa Bay in the north of Israel, and the second with Doral Energy.
In 2024, the company would produce 10-megawatt demonstration units, followed in 2025 by the first commercial systems scaled to 25 megawatts and up.
Reaching a gigawatt would require multiple systems in the 50 or 100-megawatt range, he said.
The MoU with Gaia Energy specified one gigawatt of hydrogen later in the decade, but the vision was "significantly bigger deployments" in the longer term. "The lead times in this space are always several years," Marco said.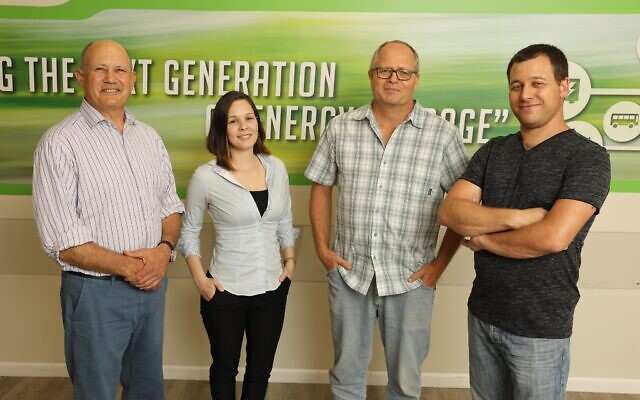 The team that developed the electrolyzer being commercialized by H2Pro. From Right: Hen Dotan, Prof. Avner Rothschild, Avigail Grader and Prof Gideon Grader of the Technion (Courtesy, the Technion)
The agreement was announced in the presence of Israel's Environmental Protection Minister Tamar Zandberg, Lior Ben Dor, the Foreign Ministry's Director for Egypt and the Maghreb, and Rachid Tahiri and Kelthoum Belhaj, senior officials from Morocco's Ministry of Energy Transition and Sustainable Development.
Green hydrogen is widely seen as an alternative to fossil fuels in sectors such as trucking and heavy industry. It can also be converted into liquid ammonia for the storage and transportation of renewable energy.
Just one kilogram of hydrogen supplies as much energy as 7.4 liters (two gallons) of gasoline.
Founded in 2019, H2Pro has raised over $100 million in venture capital with investors like Hyundai, iAngels, OurCrowd, Singapore's Temasek Holdings, and Horizons Ventures, backed by Hong Kong billionaire Li Ka-shing.
Originally posted at The Times of Israel on November 8th 2022
Filed under: News
Tagged with: Renewable Energy