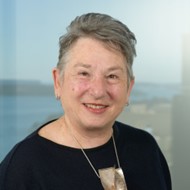 Kati Haworth – Honorary Secretary 
Kati Haworth arrived in Australia from Hungary in 1957. She has worked in accounting and human resources both for the government and for large industries, starting her own business consultancy in 1990 and which continues to this day.

Kati is a founding member of the Inner West Chavurah; has been a deputy on the NSW Jewish Board of Deputies for over 20 years, having served some years on the Executive of that organisation. She currently holds communal board positions as Hon. Secretary for Technion Australia and for The Australian Association of Jewish Holocaust Survivors and Descendants.
Interviewing applicants for medical school at one of Sydney's universities is an annual task to which she looks forward and as a resident of the Inner West, Kati has been a strong supporter of Friends of Callan Park and an activist to protect Callan Park as a public amenity.